Making a teapot is an art where many factor need to be right in order to make a perfect cup of tea.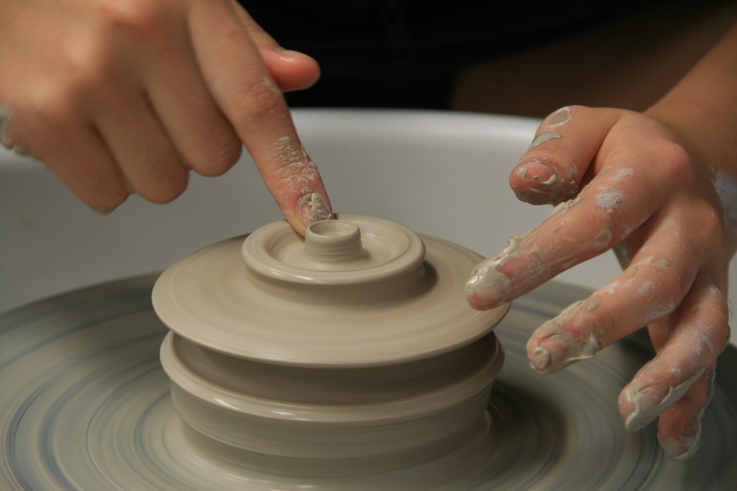 Teapots are built by the hands of a single potter artisan, who beats a lump of prepared and aged clay into a flat sheet. The walls, bottom and lid of the teapot are all cut from the clay sheet, sometimes with the aid of templates. The pieces are assembled on a simple, hand-turned wheel, stuck together with a mixture of clay and water, the joints strengthened with a spatula. Round pots are beaten into shape, and smoothed out and polished with tools made of wood and buffalo horn. Many motifs and patterns exhibit the use of multiple colors which are customarily applied or inlaid in various colored clays, rather than brush-painted with glazing pigments. Glazes are not used on the teapots, and no chemicals or other additives are added to the clay during its production. The application of glazing agents is considered by some collectors to render the pot unsuitable for any purpose other than display. When the decoration (if any)
has been cut into the clay, the teapot is then taken to the kiln masters for firing.
Originally Yixing teapots were made in "dragon kilns," so called because at night the hot kilns looked like a glowing dragon hugging the mountain. Today electric kilns or diesel-driven kilns are used. Unlike porcelain artware, Yixing clay pots are fired at somewhat lower heat and demonstrate the highly desirable character of withstanding sudden extreme temperature changes. As early as the 16th century the artisans marked their pots with clearly inscribed characters or, later, stamped them with seals bearing their names. This tradition continues today and serves as a reminder of every teapot's high quality and craftsmanship.
The artisans making Yixing teapots serve a long apprenticeship under established masters, receiving rigorous training in all aspects of their craft. Many of today's Yixing teapots reflect contemporary themes; modern artisans produce not only replicas of old pots, but continually create new and innovative designs, their inspired imaginations lending individual character to each teapot. Many aspects of the Chinese culture are beautifully brought to life and preserved for future generations through the medium of these treasured works of art.
Source: holymtn.com